New Bio-Mat 7000mx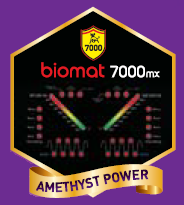 The upgraded Bio-Mats with the 7000mx technology launched in November 2012. These mats have been available in North America since November 2012. They became available in April 2013 in 220V versions for countries outside North America.

New features
Integrated Manufacturing of Bio-Mat and Controller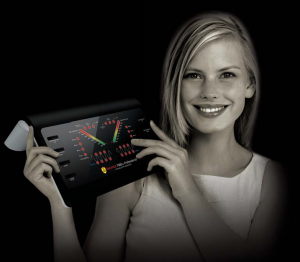 The new 7000mx Bio-Mat and controller are now produced as one integrated unit. The components are matched in each unit for calibration and electrical components, soldered joints for sensors are more robust and the special silicone urethane is much heavier. This produces a more robust Bio-Mat. All improvements have been designed to add safety and longevity to the Bio-Mat. The new Manufacturing facility will ensure strict quality control for all products and components.
New Tourmaline "Toca Catch Power" Layer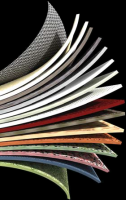 The new top layer inside the Bio-Mat is called "Toca Catch Power". This layer is a special ionized fabric which. Using powdered tourmaline, chrome, and 20 other minerals infused in the fabric, a natural ionization is created.
This new layer produces 1500 ions per cubic centimeter. This is combined with the ions produced electronically through additional layers in the Bio-Mat which output 300 ions per cubic centimeter. The total combined ion output is now 1800 ions per cubic centimeter. The previous model produced only 300 ions per cubic centimeter, using only the electronic production of ionization.
To put this in perspective, ion bracelets, typically worn on the wrist, are now on the market. The makers of these bracelets claim numerous health and sports-performance benefits. The higher quality bracelets produce about 1,500 ions per cubic centimeter. The Bio-Mat 7000mx would be like a giant, high-powered ion bracelet. You will notice changes in your energy field simply by putting your hand on the Bio-Mat 7000mx.
New 7000MX Controller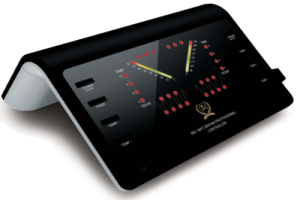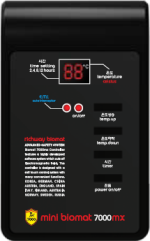 The controller automatically reduces any temperature above 122°F (50°C) to 113°F (45°C) after 4 hours.
Heavy duty electrical wiring and circuitry is used for increased durability and safety.
The power cord is twice the previous model length.
New BioClay Cotton Pad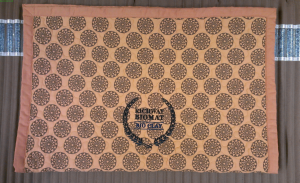 New Cotton Pad features BioClay fabric infused with natural infrared.
Launder in cold or warm water, line dry. Will not come off in wash.
Will emit infrared for approximately five years with regular use.