Biomat Benefits for Therapy or Relaxation
The Biomat can be used for overnight sleeping, in a therapy session, or just when you want to relax. By combining infrared, negative ions, and gemstone amethyst crystals, the Biomat delivers a unique experience.
Therapy sessions can be as short as 15 minutes to an hour or more. For shorter sessions, you can use a higher temperature setting.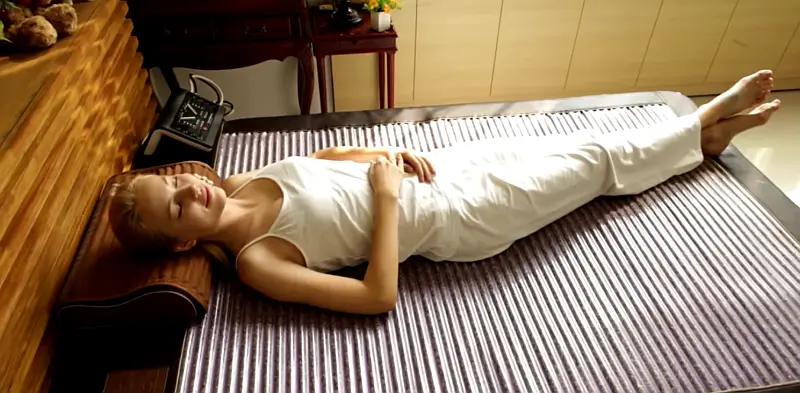 Here are some of the benefits.
Far infrared elevates body temperature
assists the body to relax
helps with aches and pains
supports the immune system
dilates the blood vessels, which increases circulation
boosts serotonin levels to increase a state of calmness
While some people have reported weight loss from using the Biomat, this is not expected. This can occur as the Biomat changes or improves the metabolism.
For more intense sessions you can use the high temperatures and a space blanket to relect the heat back. With these temperatures, the Biomat should not be used for more than 45 minutes to one hour.
The Bio-Mat is a Class II, FDA registered medical device. FDA registration documents give the following indications for use:
The Biomat is indicated for the temporary relief of minor muscle and joint pain and stiffness; the temporary relief of joint pain associated with arthritis; the temporary relief of muscle spasms, minor sprains and strains, and minor muscular back pain; the relaxation of muscles; and the temporary increase of local circulation where applied.
We have hundreds of testimonials of people using these mats for a variety of conditions. If you are a medical practitioner please contact us for more information on you this would work with your clients.