Quantum Energy Comforter
Use the comforter with your Bio-Mat to enhance the power of negative ions and far infrared rays. The Quantum Energy Comforter is designed to be light and comfortable allowing you to relax and have a good night's sleep.
It is a bedding product like no other. A specially designed comforter utilizing organic compounds from peach and grape seeds, amethyst and tourmaline for powerful infrared and negative ion producing capabilities.
The Quantum Energy Comforter's effectiveness is unlike any other comforter. Using the Quantum Energy Comforter in combination with your Bio-Mat will create a synergistic effect. You will love the Quantum Energy Comforter.
The Quantum Energy Comforter is an environmentally friendly product to enhance the benefits of the Bio-Mat's infrared and negative ion therapy. The conforter fits a king-size bed — 90.55" (230cm) by 78.74" (200cm). This includes two pillow covers 31.10" (79cm) by 19.68" (50cm).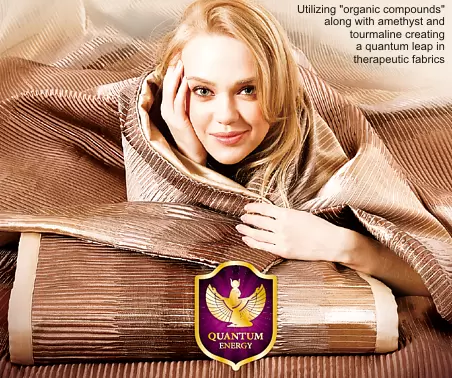 Features and Benefits
Use the comforter to enhance the power of the negative ions and infrared rays of the Bio-Mat
The comforter is light and comfortable, helping you to relax and get a good nights sleep
The comforter cover is light and easy to remove so you can easily machine wash it
Consists of 6 layers